Roll of Honour of the 710 men of Hyde who fell in WW1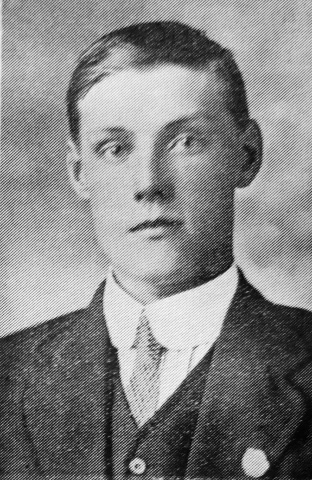 Thomas MATHER
Private 1073 Thomas MATHER of 1st / 6th Bn., Cheshire Regiment
Killed in Action Saturday 27th February 1915, Dranouter, Belgium, age 22
| | |
| --- | --- |
| Of: | 92 Stockport Road, Gee Cross, Hyde, Cheshire |
| Born: | 1893, Hyde, Cheshire |
| Parents: | Ellen Mather and James Henry Mather of 124 Stockport Road, Gee Cross, Hyde, Cheshire |
| Marital status: | Single |
| Occupation: | Cotton Operative, Ashton Brothers |
| He enlisted in: | Hyde, Cheshire |
| Remembered on: | Wulverghem-Lindenhoek Road Military Cemetery, Heuvelland, West-Vlaanderen, Belgium,   IV. G. 26. |
| Link with Hyde: | Born in Hyde |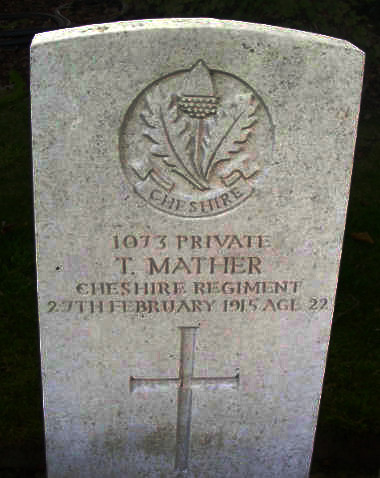 Notes:
Message sent to father:
War Office,
Whitehall, S.W.,
7th March, 1916.
Sir, I have it in command from his Majesty the King to inform you, his next of kin, of the late Private Thomas Mather, No.1073, of the Cheshire Regiment, Territorial Force, that this Private was mentioned in a dispatch from Field Marshal Sir John French, dated 30th November 1915, and published in the "London Gazette" dated 1st January, 1916, for gallant and distinguished service in the field. I am to express to you the King's high appreciation of those services, and to add that His Majesty trusts that their public acknowledgement may be of some consolation in your bereavement.
I have the honour to be,
your obedient servant,
M. Graham, Lieut. Col.,
Assistant Military Secretary.
Private Mather gained the honour by heroically leaving the trenches, and going to the assistance of a Hyde comrade, Sergeant Long, who was lying on the battlefield, seriously wounded. While giving this assistance Private Mather was shot in the head, and died a few hours later.
From Hyde in War Time, 1916, Page 119.
In loving memory of Pte. Thos. Mather.
To the memory of our dear son and brother.
Message of Remembrance, written for Werneth Low Cenotaph Unveiling June 25th 1921