Roll of Honour of the 710 men of Hyde who fell in WW1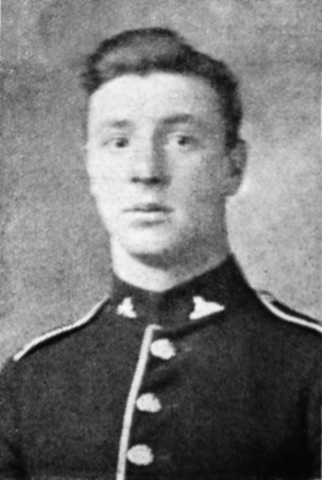 John LEE
Lance Corporal 10374 John LEE
1st Battalion, South Wales Borderers
Killed in Action, Wednesday 21st October 1914, Langemarck, Ypres, Belgium, age 22
| | |
| --- | --- |
| Home address: | 8 Muslin Street*, Newton, Hyde, Cheshire |
| Born: | 1892, Hadfield, Derbyshire |
| Parents: | Samuel Lee |
| Marital status: | - |
| Occupation: | Soldier |
| Enlisted: | Hyde, Cheshire |
Remembered:
Menin Gate Memorial, Ypres, West-Vlaanderen, Belgium,


panel 22.

Link to Hyde:
Enlisted in Hyde
From the North Cheshire Herald, 21st November 1914, page 8, column 4:
A Newton Hero's Death: Shot Whilst Attending a Comrade
The sad news of the death of Corporal James Lees, of 8 Muslin Street, Newton, reached his relatives during the past week, and although no official intimation had up to Thursday been received from the War Office, the message received bearing the news leaves hardly any doubt. A postcard from Sergt. Belford, sent to his relatives, had been forwarded to Mr Lees' family, and this reads
I am sorry I forgot to mention about Corporal Lees, who was in the platoon which I had charge, and in which he had charge of one section of men under my orders. We had to take up a position which proved fatal to us. I sent for more men to the Captain, but he was shot dead. I am pleased to say that Corporal Lees controlled the men most gallantly when I was wounded, until he was shot down dead, doing his duty. He died like a brave soldier. It gave me the greatest grief to lose such an N.C.O. He had a peaceful death with no pain.
This simple and straightforward missive, paying such great tribute to the dead hero has been written by Sergt. Belford, in a hospital in Malton. Corporal Lees was in the South Wales Borderers, with whom he had been serving as a regular for over three years, he having been in the army about four years altogether. Previous to enlisting he attended the United Methodist Church, Muslin Street, Newton, where he was very well known, and held in the highest esteem. He was a keen soldier, and when ordered to the front, had completed six months training for Gymnastic instructor in the army. His regiment during the time they have been at the front has been through some terrible engagements, and the whole regiment has suffered considerably. Since leaving for the fighting line, he has been promoted from Lance-Corporal to Corporal, the photograph above depicts him with Lance-Corporal's stripe.
The above report gives an incorrect name and rank but the facts do refer to Lance Corporal John LEE
* Muslin Street is now Talbot Road. See our notes on Old Place Names.