Roll of Honour of the 710 men of Hyde who fell in WW1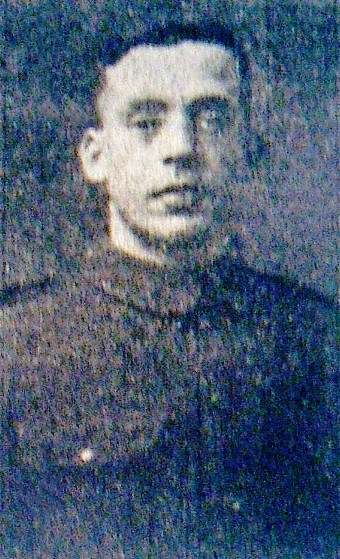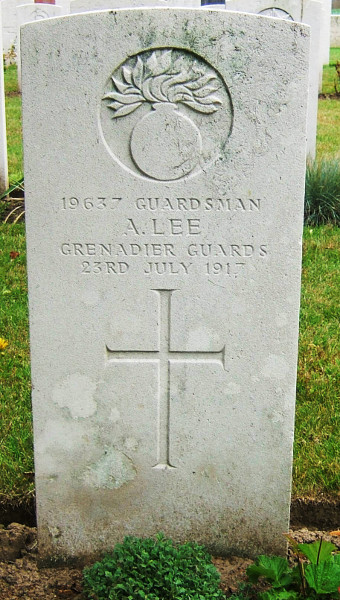 Asa LEE
Private 19637 Asa LEE
3rd Battalion, Grenadier Guards,
formerly 10311, Cheshire Regiment
Died of Wounds, Monday 23rd July 1917, Belgium, age 23
Home address:
83 Croft Street, Hyde, Cheshire
Born:
1894, Hyde, Cheshire
Parents:
Ann Lee and Enouch Lee
83 Croft Street, Hyde, Cheshire
Marital status:
Single
Occupation:
G.C.R. Bridge Painter, Guide Bridge
Enlisted:
Hyde, Cheshire
Remembered:
Bleuet Farm Cemetery, West-Vlaanderen, Belgium,


plot I, row C, grave 3.

Link to Hyde:
Born in Hyde
Joined the Cheshire Regiment in December 1913, then discharged in March 1914 having claimed a payment of £10 three months after attestation.
Remembered in British Army Railwaymen Died in The Great War, Great Central Railway Journal, October 1917, p.70
Brother to Gunner 69839 Samuel Wright Lee.
The officer commanding Private Lee's platoon wrote:
Dear sir,
I regret to have to inform you that your son, Private A. Lee was killed in the trenches at the time a shell landed in the bay in which he was, and wounded him very seriously, so much so that he was almost instantly unconscious, and died within half-an-hour. I can only say how much I and the platoon sympathise with you in your gross loss. We were all very fond of him. He was brave and cheery. His behaviour under fire was always that of a hero. Please accept our deepest sympathy
Yours sincerely,
A. Borthwick,
Second Lieutenant.
Private J. Randall wrote:
He was a jolly fellow, and loved by all, both in the platoon and company, and I'm sure we miss him very much. It's a great loss, and it comes hard to lose a pal such as your son was, but it's worse for you, as you were his word and thoughts. Of that I'm certain. I first met him while at Wellington Barracks, London, and from that time to the finish we remained the best of pals. Please accept mine and the fellows of his platoon's heartfelt sympathy.
An army Chaplain wrote:
He was buried by me in a cemetery close to a farm, and on his grave we have planted a flower. I am sorry to be the bearer of such tidings. Your son was much loved by all. May God, who is the Consoler, give you that alone which can make you bear up in your trouble. Go to your vicar and tell him, and he will understand.