Roll of Honour of the 710 men of Hyde who fell in WW1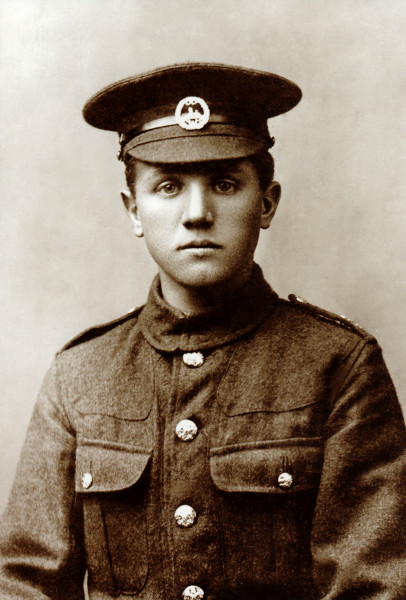 Ernest BOOTH
Private 19298 Ernest BOOTH of South Wales Borderers
Died at home Sunday 21st March 1920, at home in Hyde, age 26
| | |
| --- | --- |
| Home address: | 11 Francis Street, Hyde, Cheshire |
| Born: | 1894, Denton, Lancashire |
| Parents: | Mary Ellen Booth and Thomas Booth of 40 Read Street, Hyde, Cheshire |
| Marital status: | Married to Bertha Booth (née Broadhurst) |
| Occupation: | Labourer |
| He enlisted in: | Hyde, Cheshire |
| Remembered: | Gee Cross (Hyde Chapel) Chapelyard, Cheshire,   109/4 |
| Link to Hyde: | Lived in Hyde |
Silver Badge Number B49163.
Discharged under 392 xvi. King's Regulation 2(a).
Cause of Discharge: Chronic Bronchitis, agrrivated by active service.
Private Booth was sent to Gallipoli in 1915 as a machine gunner, and became ill during one of the worst winters there. He was admitted to hospital on 31st December 1915. On 7th January he was sent to St Patrick's Hospital in Malta on the Hospital Ship Gloucester Castle. He was able to return to the service before being invalided back to England on the S.S. Goorkha from Alexandria in May 1916. He was pensioned out of the military on October 11th 1918, and died at home March 21st 1920.