Roll of Honour of the 710 men of Hyde who fell in WW1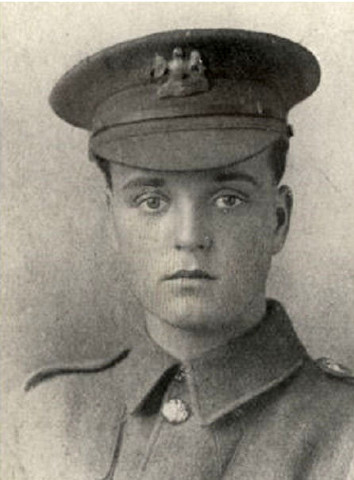 Samuel Ellison WILDE
Private 17256 Samuel Ellison WILDE of 20th Bn., Manchester Regiment
Killed in Action Saturday 1st July 1916, France & Flanders, age 20
| | |
| --- | --- |
| Of: | 2a Milk Street, Hyde, Cheshire |
| Born: | 1896, Hyde, Cheshire |
| Parents: | Catherine Wilde and Samuel Wilde of Ellison House, Styal Road, Wilmslow, Cheshire |
| Marital status: | Single |
| Occupation: | Worked for his father, a Bank Manager, at Parr's Bank,York Street, Manchester. |
| He enlisted in: | Manchester, Lancashire |
| Remembered on: | Dantzig Alley British Cemetery, Mametz, Somme, France,   V. J. 7. |
| Link with Hyde: | Born in Hyde |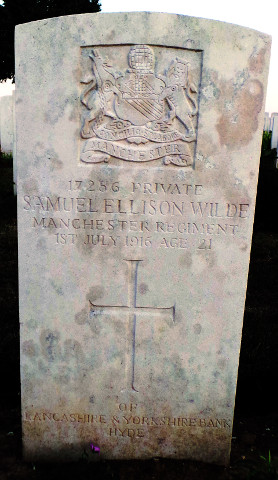 Notes:
In a letter to Wilde's parents, his commanding officer noted:
How sorry we all were to lose him because of his wonderfully cheerful disposition. Wherever we were he was always the same; nothing in the way of hardships, rough weather, or shortages of food in the trenches affected his spirits in the least, and a disposition of that sort, combined with a spirit which made him always volunteer for any extra hard or dangerous work had an incalculable effect on the spirits of the whole section. It speaks volumes when I tell you that your son was known to everyone, not as Private Wilde, but as "Sammy".
In its obituary, the Parr's Bank Staff Magazine remarked:
Although young in years his smiling open countenance, his unruffled disposition and his remarkable cheerfulness have won for him great respect, and have left an impression on his colleagues at York Street Office which will not easily be erased.
Natwest Bank, Market Street, Manchester, October 2018.