Roll of Honour of the 710 men of Hyde who fell in WW1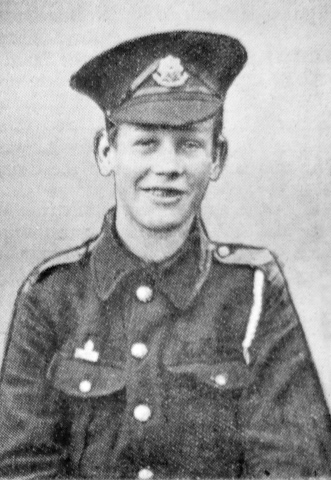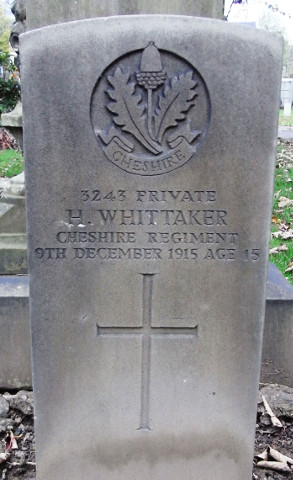 Harry WHITTAKER
Private 3243 Harry WHITTAKER of 2nd / 6th Bn., Cheshire Regiment,
Died of Illness Thursday 9th December 1915, Bedford, Bedfordshire, age 15
| | |
| --- | --- |
| Home address: | 9 Spring Bank Street, Hyde, Cheshire |
| Born: | 1900, Hyde, Cheshire |
| Parents: | Frances Ann Whittaker and William Whittaker of 9 Spring Bank Street, Hyde, Cheshire |
| Marital status: | Single |
| Occupation: | McQueens Hatworks |
| He enlisted in: | Stockport, Cheshire |
| Remembered: | Hyde Borough Cemetery, Cheshire,   N. 2. 2233 |
| Link to Hyde: | Lived in Hyde |
Brother to Private 266535 Joseph Whittaker.
Harry Whittaker was aged 13 years and 8 months when he joined the army.
From the North Cheshire Herald, 18th December 1915:
Funeral on Tuesday, Comrades Pay Last Tribute.
There were impressive scenes at the funeral of Private Harry Whittaker on Tuesday afternoon. The Primitive Methodist minister, the Rev. F.P. Pearce conducted a short service at [his parents] house. The coffin, which was covered with the Union Jack, was borne by the deceased's comrades, who had been granted special leave from Bedford to pay a last tribute of respect to one whom they esteemed very highly. The internment took place at Hyde Borough Cemetery, and there was a large number of people present to pay respect. The soldiers stood at attention, with bowed heads, round the grave, as the coffin was lowered.
From Hyde in War Time, 1916:
On December 9th 1915, [he] was removed from his billet at Bedford to the Bedford County Hospital, where he was at once operated upon for appendicitis. Peritonitis supervened, and he died shortly after the operation, much to the regret of officers and men in the training camp.