Roll of Honour of the 710 men of Hyde who fell in WW1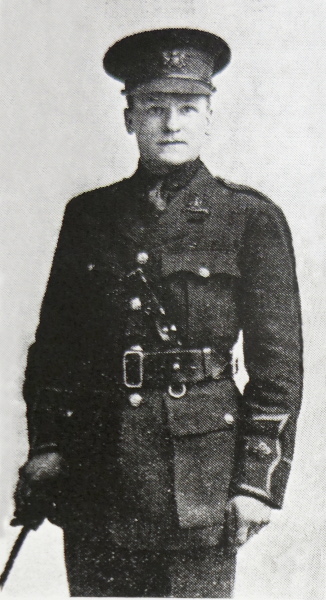 Edward Worsley WESTBROOK
Second Lieutenant Edward Worsley WESTBROOK of 8th (Ardwick) Bn., Manchester Regiment (Territorial)
Died of Wounds Monday 8th November 1915, Gallipoli, Dardanelles, age 22
| | |
| --- | --- |
| Home address: | 18 Stockport Road, Hyde, Cheshire |
| Born: | 1893, Hyde, Cheshire |
| Parents: | Esther Ann Westbrook and George John Westbrook of 18 Stockport Road, Hyde, Cheshire |
| Marital status: | Single |
| Occupation: | Foreign Shippers Clerk |
| He enlisted in: | |
| Remembered: | Twelve Tree Copse Cemetery, Turkey,   Sp. Mem. C. 395. |
| Link to Hyde: | Born in Hyde |
He died nine days before his 23rd birthday.
A letter to Mrs Ester Ann Westbrook written by the Lieutenant Colonel of Lieutenant Westbrook's Battalion:
8th Manchester Regiment,
127 Brigade, 42 Div., M.E.F.,
Trenches, Gallipoli,
9-11-15.
Dear Mrs Westbrook,
It is with the greatest regret that I have to announce to you the death of your son, 2nd Lieutenant E. W. Westbrook of the Battalion under my command. He was on duty yesterday in the firing line, and in his anxiety to discover the whereabouts of an enemy maxim gun, which was directed against our parapet, he was observing through his field glasses, when he was shot through the forehead, and fell at once. He never regained consciousness, but died one hour afterwards. We buried him last night, in a well marked grave, with his face towards the west, and the country he died for. The Church of England Chaplain conducted the service. Our Brigadier General Eliot was present, with as many of your son's brother officers as we could spare from the firing line. A cross is placed over his grave made of wood with the following inscription: "In Memory of 2nd Lieut. E. W. Westbrook, 1/8, M/R. Killed in action, 8th Nov., 1915: erected by his comrades." We all deplore the bright, cheery, fine good fellow he was. For me, personally, it was always with a feeling of genuine pleasure that I met him every day. I always regarded him as an officer who placed duty before everything, and all of us mourn our loss. In the name of the regiment we beg go you to accept our deepest sympathy in your great sorrow, which we all share with you.
Believe me,
yours sincerely
Lieut. Colonel.