Roll of Honour of the 710 men of Hyde who fell in WW1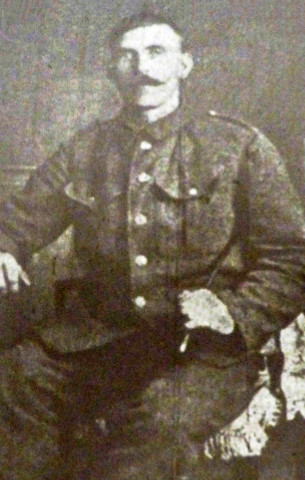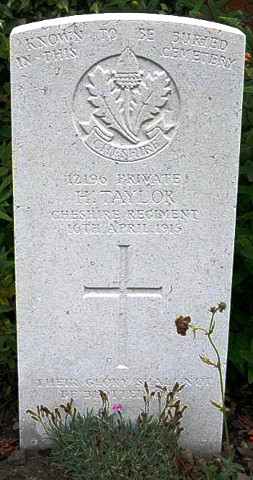 Harry TAYLOR
Private 12196 Harry TAYLOR of 1st Bn., Cheshire Regiment
Killed in Action Friday 16th April 1915, At the Battle of Hill 60, No.7 Field Ambulance, France, age 32
| | |
| --- | --- |
| Home address: | 4 Gregory Street, Newton, Hyde, Cheshire |
| Born: | 1882, Dukinfield, Cheshire |
| Parents: | Maria Taylor and Richard Taylor of Vaudrey Lane, Denton, Lancashire |
| Marital status: | Married to Sarah Hannah Taylor, née Ashton of 4 Gregory Street, Newton, Hyde, Cheshire |
| Occupation: | Furnace Man |
| He enlisted in: | Hyde, Cheshire |
| Remembered: | Tuileries British Cemetery, Ieper, West-Vlaanderen, Belgium,   Sp. Mem. E. 14. |
| Link to Hyde: | Enlisted in Hyde |
From the North Cheshire Herald, 22nd May 1915, page 8, column 2:
Newton Man Killed in France: Died Facing The Foe
In sending news of the death of Private Harry Taylor of Gregory Street, Newton of the 1st Cheshire Regiment. Sergeant Burgoyne pays a very excellent tribute to his character as a soldier. He says:  
I am sorry to have to tell you such sad news of your husband's death, for as he was in my platoon before he went in for stretcher bearing, and as I am a Newton lad myself and one of his chums. I think it is only right to let you know that he died a soldiers death, with his face to the foe. He was never known to leave a wounded soldier longer than he could help, and I have known him and his chum, Private Davis, to take them to the dressing station in broad daylight, under heavy shell fire. I can assure you, you have our heartfelt sympathy. We have lost a good comrade, and I have lost a good chum. Yours, Sergeant Huge Burgoyne.
Another letter has been received by Mrs Taylor, written on behalf of the stretcher bearers of the 1st Battalion Cheshire Regiment. This says:
  On behalf of the above we offer you our deepest sympathy on the death of you husband, who was killed on April 18th, and was buried by the stretcher bearers. On his graver is a cross, which reads: "In loving memory of Private Harry Taylor, killed in action. Rest in peace." We know the loss to you will be great, but it will be a small consolation to you to know that no better soldier ever wore the King's Uniform. He was rough in his speech and manner, but kind in all his actions; brave as a lion, and fearless of all danger. He died like a soldier, doing his duty. Great love hath no man than to lay down his life for his friends. Again offering you our deepest sympathy. We remain yours truly, the following stretcher bearers: Corporal A. Carey, Bd. A. Purcell, Private F. Gill, Private R. Corry, Private G. E. Davies, Private J. H. Brooks, Private Jack Hobson, Private S. Poxon, Private T. Hussey, Private C. Blease, Private J. Small, Private G. Lamb, Private F. Crompton.
Private Harry Taylor enlisted in October last, and was sent to France at the beginning of January. Prior to the war he was employed at Messrs. Summers' Forge.