Roll of Honour of the 710 men of Hyde who fell in WW1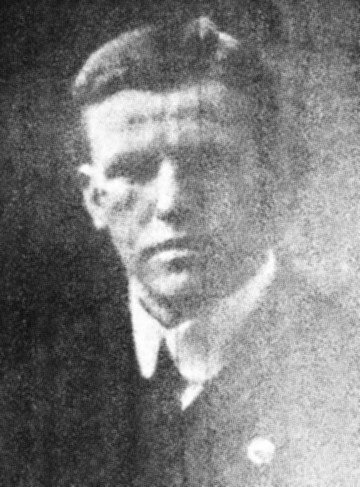 Robert Edward SPEAKMAN
Lance Corporal T4/042172 Robert Edward SPEAKMAN
213th Company, Royal Army Service Corps
Died of Illness, Tuesday 9th February 1915, Cambridge Hospital, Aldershot, Hampshire, age 25
Home address:
4 Goodier Fold, Victoria Street, Newton, Hyde, Cheshire
Born:
1890, Marple, Cheshire
Parents:
Mary Speakman and Charles Speakman
91 Queen Street, Marple, Cheshire
Marital status:
Married to Emiley Speakman (née Savage)
317 Queen Street, Rose Brow, Compstall, Stockport, Cheshire
Occupation:
Driver for Messrs. C. Creese and Co. Brewers of Hyde
Enlisted:
Hyde, Cheshire
Remembered:
Aldershot Military Cemetery, Hampshire, UK,


plot AF, grave 1805.

Link to Hyde:
Enlisted in Hyde
Father of Freda Speakman, of 317, Queen St., Rose Brow, Compstall, Stockport.
From a letter, dated 5th Jan 1915, from J. W. Danby, Chief Constable, Hyde, to Officer Commanding Army Service Corps:
The bearer Robert Edward Speakman bears an excellent character and is well accustomed to horses both as to riding and driving.
From the North Cheshire Herald, 6th February 1915, page 8, column 3: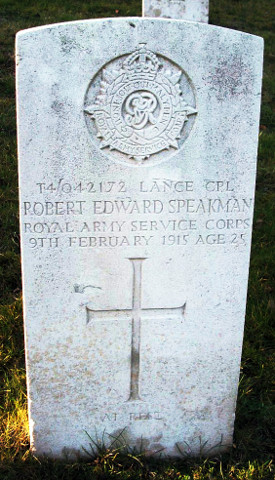 Marple's First Casualty: Promotion Only Short-Lived.
A Victim of Pneumonia
The news of the death of Corporal Robert Speakman, at Aldershot, was received in Marple on Wednesday. The sad message was brought to Marple by the young wife of Corporal Speakman, who resides in Goodier Fold, Victoria Street, Newton. She having received a telegram from Aldershot that her husband had passed away on Tuesday evening, in the Cambridge Hospital, from pneumonia. He was taken ill on Sunday week, and his complaint developed rapidly.
Six weeks ago Corporal Speakman who is 25 years of age, joined the Army Service Corps as a transport driver. So diligently had he attended to his duties that he was promoted to Lance-Corporal about a fortnight ago, and just before he fell ill he was made Corporal. He was attached to the 213th Company.
About 18 months ago Corporal Speakman left Marple, where he was employed as a carted by the Compstall Co-operative Society to take a situation as driver for Messrs. C. Creese and Co. Brewers of Hyde, and he was employed by them at the time he joined the A.S.C. at Chester. He had become very popular amongst his fellow workers at Hyde. The sympathy of everyone will go out to the young wife of Corporal Speakman (her maiden name was Miss Savage of Compstall) who is left to mourn her loss, with a two-year-old daughter. More poignant will be her grief owing to the fact that the harsh rule of the War Office relating to the conveyance of dead soldiers to their homes prevents her from bringing her husband's body to Marple for burial in his native village. To bring the corpse from Aldershot will cost £12 10s, and Mrs Speakman is not in a position to afford this sum, and the authorities having insisted on an answer to their inquiry as to the disposal of the body, the funeral will take place at Aldershot, on Saturday.
Previous to leaving Marple, Corporal Speakman was prominently identified with the Gymnasium. He was a splendid athlete, and won several prizes in gymnastic demonstrations, and for some time was assistant instructor at the Marple Gymnasium.
One of his brothers is Sergeant-Major Richard Speakman, who is with the 6th Cheshires at the Front. A telegram was sent to him on Wednesday, but as he has only just gone into the fighting line, after being ill, and in hospital, he is not expected over to do honour to his soldier brother.
This is the first casualty amongst the 200 or more Marple men who have joined the forces.