Roll of Honour of the 710 men of Hyde who fell in WW1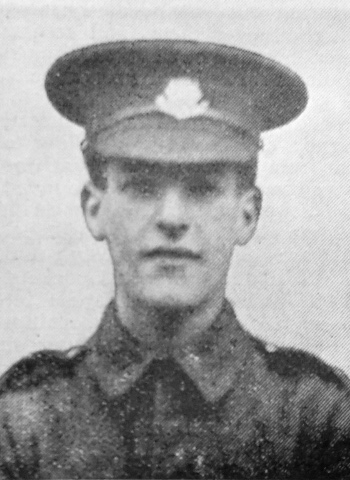 Harold SMITH
Private 1592 Harold SMITH of 1st / 6th Bn., Cheshire Regiment
Killed in Action Thursday 11th February 1915, Dranoutre, France , age 18
| | |
| --- | --- |
| Of: | Castle Street, Newton, Hyde, Cheshire |
| Born: | 1897, Broadbottom, Cheshire |
| Parents: | Mary Ann Smith and Joseph Hadfield Smith of 52 Clarendon Street, Hyde, Cheshire |
| Marital status: | Single |
| Occupation: | Piecer, Cotton Mill |
| He enlisted in: | Hyde, Cheshire |
| Remembered on: | Wulverghem-Lindenhoek Road Military Cemetery, Heuvelland, West-Vlaanderen, Belgium,   IV. G. 28. |
| Link with Hyde: | Lived in Hyde |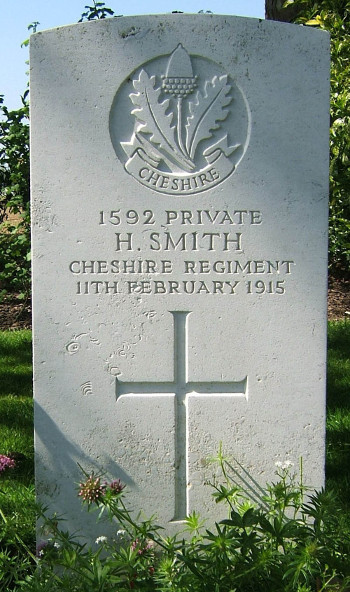 Notes:
Brother to Private 1252 Ernest Mitchell Smith, Private 18923 Herbert Smith and Lance Corporal 22181 Leonard Smith.
A Patriotic Newton Family
Well-Known Tram Guard Killed. Member of Patriotic Family
The sad news of the death of Private Harold Smith of Castle Street, Newton, of the 6th Battalion Cheshire Regiment (Territorial Force), reached the news on Wednesday last, the report stating "1,592 Private H. Smith killed: bullet wound in neck: [Death] instantaneous, 11th February 1915". Private H. Smith who reached his 18th birthday since the Territorials were mobilised, was well known throughout the district as a guard on the Joint Board*, where his cheery disposition had won for him popularity.
In his last letters home he said:
 I am sending you a parcel to keep for me till I return. We went into the trenches on Thursday afternoon, the 28th, doing 95 hours. We are now standing by ready to go in again at a moment's notice.
On the 8th inst he wrote:
 We go into the trenches again to-morrow (Tuesday), for another eight days
When the sad news of his death was told to his mother, she was writing a letter to her son. Two other brothers of deceased are now serving with the colours.
North Cheshire Herald, February 20th Page 8 Column 3.
* The Stalybridge, Hyde, Mossley & Dukinfield Tramways & Electricity Board (SHMD), a public transport and electricity supply organisation.