Roll of Honour of the 710 men of Hyde who fell in WW1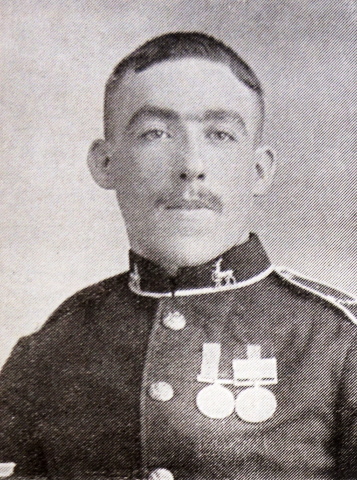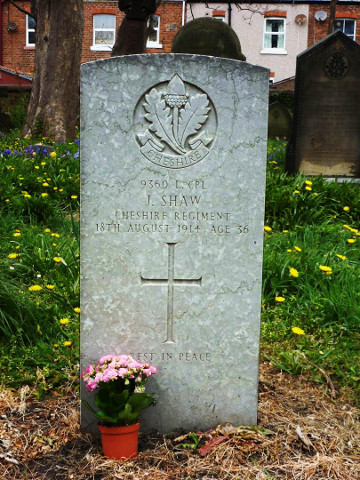 James SHAW
Lance Corporal 9360 James SHAW of 3rd Special Reserve Bn., Cheshire Regiment, Also The Depot. Bn., Cheshire Regiment
Died of illness Tuesday 18th August 1914, West Kirby, Cheshire , age 36
| | |
| --- | --- |
| Home address: | 24 Cotton Street, Hyde, Cheshire |
| Born: | 1878, Padgate, Warrington, Lancashire |
| Parents: | James Shaw |
| Marital status: | Married to Georgina Margaret Shaw (née Daley) of 141 Church Street, Ashton-Under-Lyne, Lancashire |
| Occupation: | Tram Car Driver, S.H.M.D. Joint Tramways Board |
| He enlisted in: | Hyde, Cheshire |
| Remembered: | Hoylake (Holy Trinity) Churchyard, Cheshire,   North of Church |
| Link to Hyde: | Lived in Hyde |
The first man to die from the 710 Men of Hyde 1914 - 1921.
From a Daily Orders Report: 3rd S. R. Bn. The Cheshire Regiment:
Died from Heart Failure whilst on march to West Kirby 18 - 8 - 14.
North Cheshire Herald, 22nd August 1914, page 8, column 4:
Hyde's First War Casualty:
Reservist Succumbs to Heart Failure while with his Regiment.
A Long Military Career: Fought with Lord Kitchener
We regret to announce the death of a Hyde Reservist, the first casualty amongst our brave Hyde soldiers, in the person of Corporal James Shaw, of 24 Cotton Street, Hyde, which occurred on Tuesday, at Birkenhead, where he was stationed with his regiment - the 3rd Cheshires. The news was conveyed to the dead soldier's wife by telegram from the Adjutant of the regiment, which was received on Wednesday morning, and which read: "O.H.M.S. Birkenhead. Much regret to inform you that Corporal James Shaw died about 7.30pm yesterday (Tuesday), from heart failure. Further particulars will be sent to you as early as possible. Unless I hear from you to the contrary, the funeral will take place to-morrow (Thursday, at Hoylake, Cheshire, at a time which will be notified [to] you when settled - Adjutant, 3rd Cheshires." The news came as a great shock to the young wife, who had received a post card on Sunday saying he was quite well and was writing her a letter.
Corporal Shaw, who is 39 years of age, had had a fairly long career in the army. He went through the Soudan campaign in 1898, and was in the battles at Atbara and Khartoum, and received the Queen's and Khedive's medals with bars. He served over seven years in the 1st Battalion of the Royal Warwickshire Regiment, and finished his time in 1904 when he was put on the reserves. He later transferred to the 3rd Cheshire Regiment, in which he died. He left Hyde on the 128th inst. And proceeded to Chester, where he joined his battalion. His wife subsequently received post cards from him at Wallasey and Birkenhead.
His wife from whom much sympathy is felt in the district is left with five children, the eldest of whom is nine years, and the youngest nine months. Corporal Shaw had been in the employ of the Stalybridge, Hyde, Dukinfield and Mossley Joint Board, as a tram driver for about nine years being one of the first employers. He was very popular amongst the staff, and his colleagues were shocked to hear of his sudden death. He was also well known in the town as an ardent Socialist, and he has often addressed meetings on the Market Square.
Military Funeral
The Remains of Corporal Shaw will be interred today (Friday) at Hoylake at 2.30, and the funeral will be given military honours. Several of the deceased man's colleagues, drivers in the employ of the Joint Board will attend the funeral.