Roll of Honour of the 710 men of Hyde who fell in WW1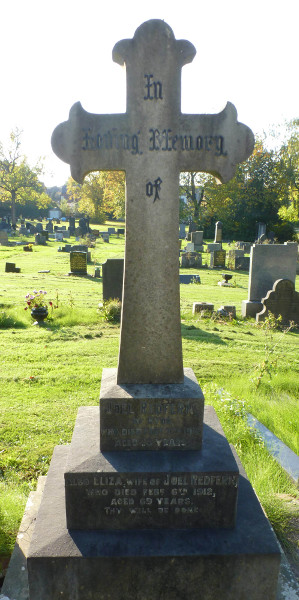 Harry REDFERN
Private M2/101934 Harry REDFERN of Army Service Corps
Died of Illness Wednesday 20th December 1916, Hyde, Cheshire, age 36
| | |
| --- | --- |
| Of: | 14 Peel Street, Hyde, Cheshire |
| Born: | 1880, Mottram, Cheshire |
| Parents: | Eliza Redfern and Joel Redfern of 8 Meadow Ave, Hyde, Cheshire |
| Marital status: | Married to Sarah Hannah Redfern (née Bradshaw) of 14 Peel Street, Hyde, Cheshire |
| Occupation: | Motor Driver |
| He enlisted in: | Manchester, Lancashire |
| Remembered on: | Hyde Borough Cemetery, Cheshire, (Non Conformist),   3261 Section 2 |
| Link with Hyde: | Lived in Hyde |
Notes:

Discharged 26th May 1916, Physically unfit for duty caused by Tuberculosis of the lungs. The illness began in April 1916 when he began to cough and spit, with night sweats and lack of appetite, with symptoms gradually getting worse.

British Army WWI Service Record, 1914 - 1920.

He was buried with his parents in the family grave in Hyde Borough Cememtery, but the inscription of his burial was never placed on the headstone.