Roll of Honour of the 710 men of Hyde who fell in WW1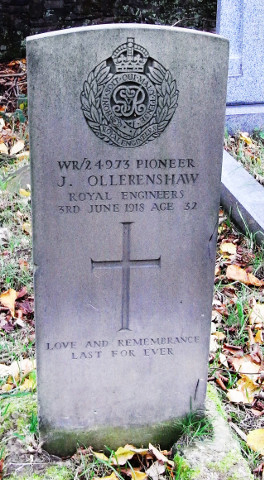 James Richard OLLERENSHAW
Pioneer WR/24973 James Richard OLLERENSHAW of Corps of Royal Engineers (Roads and Quarries) (335th R.C.C.)
Died of Illness Monday 3rd June 1918, Gray's Inn Road Hospital, London, age 33
| | |
| --- | --- |
| Of: | 40 Cheapside, Hyde, Cheshire |
| Born: | 1885, Newton, Cheshire |
| Parents: | Mary Hannah Ollerenshaw and John Ollerenshaw of 40 Cheapside, Hyde, Cheshire |
| Marital status: | Single |
| Occupation: | Military |
| He enlisted in: | Carlisle, Cumberland |
| Remembered on: | St. Mary's Churchyard, Newton, Hyde, Cheshire,   I.5 |
| Link with Hyde: | Lived in Hyde |
Notes:

Baptism record says born in Godley.

Medical Report:

Gray's Inn Rd. W.C.
June 9th 1918.
Pnr. J. Ollerenshaw was admitted here on June 3rd 1918. He was suffering from intestinal obstruction, the result of malignant growth of the signion. Soon after admission Laparotomy was performed. The colon was found to be gangrenous. The patient died at 8.30pm June 3rd 1918. i.e. 3 hours after the operation.
Senior Resident Medical O.
Certified true copy.
Capt. for Col i/c Records,
R.E. (Transportation Branch).