Roll of Honour of the 710 men of Hyde who fell in WW1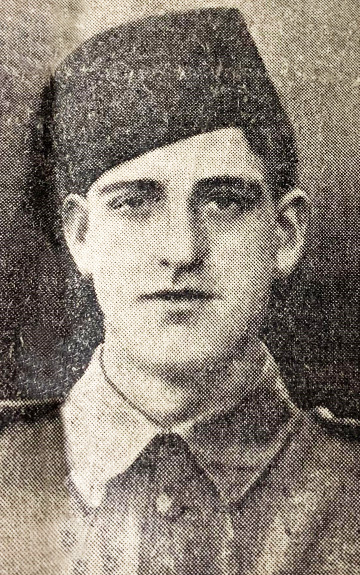 Frank OLDFIELD
Lance Corporal 1377 Frank OLDFIELD of 1/9th Bn., Manchester Regiment
Killed in Action Saturday 19th June 1915, Gallipoli, age 22
| | |
| --- | --- |
| Of: | 16 Syddall Street, Hyde, Cheshire |
| Born: | 1893, Hyde, Cheshire |
| Parents: | Betty Oldfield and Walter Oldfield of 16 Syddall Street, Hyde, Cheshire |
| Marital status: | Single |
| Occupation: | Piecer, Cotton Spinning, Slack Mills, Hyde |
| He enlisted in: | Ashton-under-Lyne, Lancashire |
| Remembered on: | Helles Memorial, Turkey,   Panel 158 to 170 |
| Link with Hyde: | Born in Hyde |
Notes:

News Wanted of Lance-Corporal Frank Oldfield, of Hyde

Information is wanted of Lance-Corporal Frank Oldfield of Syddall-street, Hyde, who is in the 9th Battalion, Manchester Regiment, Ashton-u-Lyne Territorials. Lance-Corporal Oldfield has been missing since June 19th. He has been in Egypt and the Dardanelles. His last letter, sent to his mother, was dated May 29th, and sent from the Dardanelles. In this he said:

I received your kind and welcome letter, and am pleased to hear you are all in the best of health. Considering all things, I am fairly well myself at present. You might send me some writing material and a few smokes. We have been in the firing line, and I have had my first experience of rifle and shell fire. I have returned safe and sound, but wet through, for it simply poured down. We were up to the waist in thick mud and water. I cannot say any more at present. Send writing material as soon as possible. With fondest love and best wishes to all.
Your loving son,
Frank.

Should any comrades in the Dardanelles hear anything about Lance-Corporal Oldfield, his mother will be deeply grateful if they will communicate it to her.

Before enlisting, Lance-Corporal Oldfield, was employed at Slack Mills, Hyde.

From a 1915 newspaper article donated by a relative.