Roll of Honour of the 710 men of Hyde who fell in WW1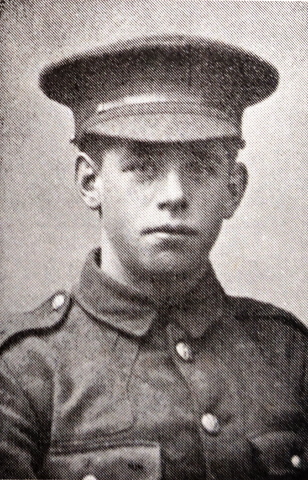 Fred MOORE
Private 9872 Fred MOORE
1st Battalion, Cheshire Regiment
Killed in Action, Thursday 4th March 1915, Flanders, age 18
Home address:
70 Travis Street, Hyde, Cheshire
Born:
1897, Hyde, Cheshire
Parents:
Emily Moore and William Moore
70 Travis Street, Hyde, Cheshire
Marital status:
Single
Occupation:
Labourer on Farm
Enlisted:
Hyde, Cheshire
Remembered:
Menin Gate Memorial, Ypres, West-Vlaanderen, Belgium,


bay 22.

Link to Hyde:
Born in Hyde
From the North Cheshire Herald, 10th April 1915, page 8, column 5:
Hyde man Killed in Action:
An Old St. Thomas Scholar
During the last few days news has been received by Mrs Moores, of Travis Street, Hyde, that her son, Private Fred Moores, of the 3rd Battalion Cheshire Regiment, has been killed in action. He was very well known as an old scholar of St Thomas' Day School. He first joined the Territorials, and later enlisted in the Cheshire Regiment. He had been home but a few weeks when the war was declared, and he was called to the colours. After a short stay in Scotland, the regiment was drafted to the front. He was killed on March 4th, it was a sad coincidence that the same day he wrote home saying he was in the best of health. He was 18 years of age on the eighteenth day of last august.
A Message of Remembrance, written for Werneth Low Cenotaph Unveiling, 25th June 1921:
Baptist Church and Sunday School, Chapel Street, Hyde.
In ever-loving memory of Edwin Eyre, M.M., Harold W. Lockyear, Harold Slater,
John S. Pursglove, Jesse D. Schoolden, Andrew Leech, Fred Moores, and William Booth.