Roll of Honour of the 710 men of Hyde who fell in WW1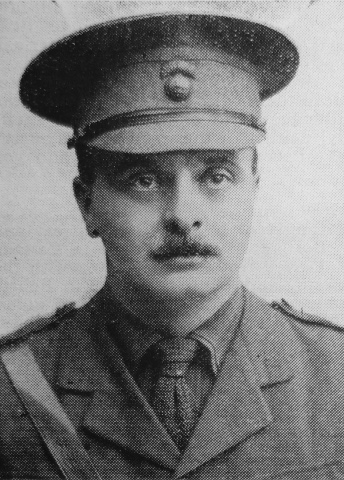 James Leadbitter KNOTT
Major James Leadbitter KNOTT of 10th Bn., Prince of Wales's Own (West Yorkshire Regiment), 9th Bn., Northumberland Fusiliers initially
Killed in Action Saturday 1st July 1916, Belgium, age 33
| | |
| --- | --- |
| Of: | Close House, Wylam on Tyne, Northumberland |
| Born: | 1883, North Shields, Tyne and Wear |
| Parents: | Lady Margaret Annie Knott and Sir James Knott, 1st Bart. of Close House, Wylam on Tyne, Northumberland |
| Marital status: | Single |
| Occupation: | Ship Owner (The Prince Line) |
| He enlisted in: | |
| Remembered on: | Ypres Reservoir Cemetery, Ieper, West-Vlaanderen, Belgium,   V. B. 15. |
| Link with Hyde: | Father Worked in Hyde |
Notes:

He was President of the Hyde Seals Swimming Club when he emilisted.

Awarded the Distinguished Service Order Medal.

He left the following letter for his parents.

My Dearest Father and Mother,
If you are reading this letter it means that this war has demanded the extreme sacrifice from me. It is not in any sense a message from the grave because whatever I may or may not doubt, I have very complete faith in the Life Eternal. Momentous events are looming and I have a premonition that I may not return to you. I have been dreaming of Basil recently. My medals are yours but I would like them destroyed when you both join me. My clothes, furniture and motor car must be immediately disposed of, everything which reminds you of my death must be removed. This is my urgent desire and wish.
Your devoted son, Jim.

James Leadbitter Knott's father was a prospective Unionist Parliamentary Candidate for Hyde and set up the Sir James Knott Trust. The family owned a Shipping Line named The Prince Line.

Major James Leadbitter Knott is buried next to his brother Captain Henry Basil Knott who died of wounds on September 7th 1915.