Roll of Honour of the 710 men of Hyde who fell in WW1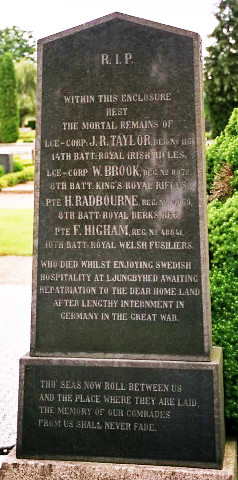 Frank HIGHAM
Private 48841 Frank HIGHAM
10th Battalion, Royal Welsh Fusiliers
Died of Illness, Wednesday 25th December 1918, Ljungbyhed Hospital, Sweden, age 34
Home address:
53 Muslin Street, Newton, Hyde, Cheshire
Born:
1884, Hyde, Cheshire
Parents:
Eliza Higham and William Higham
8 High Street, Hyde, Cheshire
Marital status:
Married to Mary Higham (née Howarth)
134 Hyde Road, Denton, Manchester, Lancashire
Occupation:
Gas Works Inspector
Enlisted:
Hyde, Cheshire
Remembered:
Riseberga Churchyard, Sweden,


a memorial.

Link to Hyde:
Born in Hyde
Information provided by relative:
Frank Higham first enlisted on the 29th October as 7022, 3rd Battalion, Cheshire Regiment. He was captured at the Battle of Delville Wood on the Somme on 13 November 1916 and ended up as a POW in Wittenberg Germany. This camp had a reputation as being the very worst POW camp during World War One.
At the end of the War the British Government faced the problem of repatriating its troops when the transport infrastructure of Europe was badly disrupted. The Danish Government offered to assist. Frank ended up at the Ljungbyhed Military Camp in Sweden on route to the UK. He was due to return on HMS Wessex on the 25 December 1918 but having survived the Somme and Wittenberg he unfortunately succumbed to Spanish Flu on Christmas Day 1918.
Extract from an inscription on a memorial in Riseberga Churchyard, Sweden:
Died whilst enjoying Swedish hospitality at Ljungbyhed awaiting repatriation to the dear home land after lengthy internment in Germany in the Great War. Tho' seas now roll between us and the place where they are laid, the memory of our comrades from us shall never fade.