Roll of Honour of the 710 men of Hyde who fell in WW1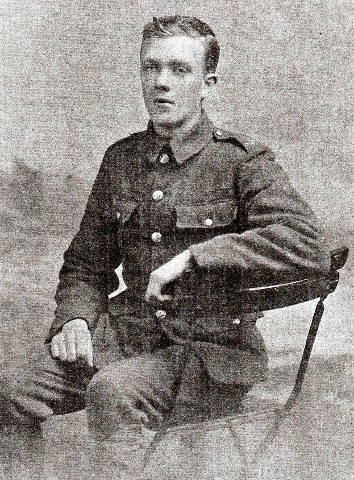 Fred GUNNELL
Private 351356 Fred GUNNELL
1st/9th Battalion, Manchester Regiment
Died of Wounds, Wednesday 25th April 1917, France, age 25
Home address:
2 Meadow Street, Hyde, Cheshire
Born:
1892, Hyde, Cheshire
Parents:
Elizabeth Alice Gunnell and Willie Gunnell
2 Meadow Street, Hyde, Cheshire
Marital status:
Single
Occupation:
Felt Hatter, Higginbotham's Hatshop
Enlisted:
Ashton-under-Lyne, Lancashire
Remembered:
Epehy Wood Farm Cemetery, Somme, France,


plot III, row E, grave 13.

Link to Hyde:
Born in Hyde
A member of St. Thomas's Church.
A Message of Remembrance, written for Werneth Low Cenotaph Unveiling, 25th June 1921:
Pte. Fred Gunnell. 1/9 Manchester Regt.
From father, mother, brother and sister.
A newspaper report:
Another Hyde Young Man Falls
Last Friday the sad news that Private Fred Gunnell of 2, Meadow-street, Hyde, was killed, was received from the records office. Private Gunnell enlisted in August 1914, at the outbreak of war, and was drafted in July, 1915, to the Dardanelles, and went through much tough fighting on the Gallipoli Peninsular. When the evacuation took place he was sent to Egypt, where he had been up to eight weeks ago, when he was sent to France. He had never been home on leave, except on one occasion, early in 1915, when he had two days' leave. He was due on leave now and a comrade with whom he should have come over is on leave at the present time. He states that Private Gunnell was engaged in putting barbed wire up, when he heard Gunnell shout. He hurried to him and found he was wounded, and conveyed him to the dressing station. He died in half-an-hour.
Previous to enlistment he worked at Higginbotham's Hatshop, and was connected with St. Thomas's Church.