Roll of Honour of the 710 men of Hyde who fell in WW1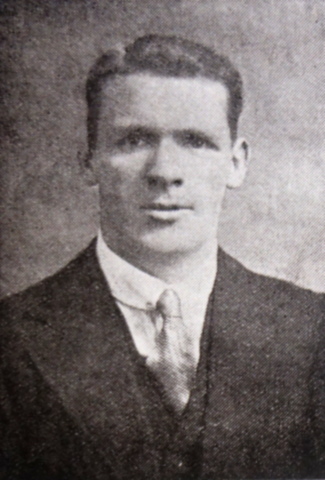 James FITZSIMMONS
Private 7907 James FITZSIMMONS of 1st Bn., King's Own (Royal Lancaster Regiment),
Died of Illness Tuesday 6th April 1915, Le Havre, France, age 30
| | |
| --- | --- |
| Of: | Port Street, Hyde, Cheshire |
| Born: | 1885, Hyde, Cheshire |
| Parents: | Elizabeth Fitzsimmons and of Port Street, Hyde, Cheshire |
| Marital status: | Single |
| Occupation: | Labourer Calioco Printer |
| He enlisted in: | Hyde, Cheshire |
| Remembered on: | Grave/Panel Div. 19. B. 3. of the memorial in Ste. Marie Cemetery, Le Havre, Selne-Maritime, France |
| Link with Hyde: | Born in Hyde |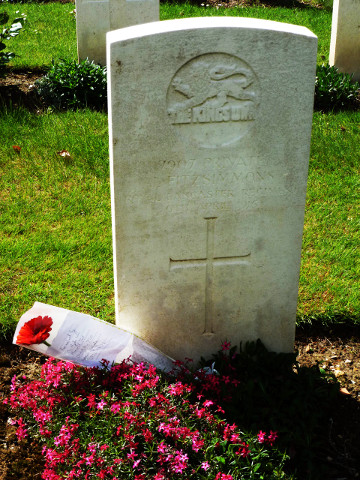 Notes:
Newspaper Report 1:
A Noted Soldier-Footballer: Death of Private J. Fitzsimmons in France
Hundreds of football enthusiasts in Hyde and other towns will learn with genuine regret of the death of a well known ex-Hyde footballer, Private James Fitzsimmons, whose home was in Port Street, Hyde, which took place last week, in hospital at Le Havre, France. News of the sad event is contained in the following sympathetic letter, which had been received from a lady nurse by his widowed mother, at Port Street:
No.2 General Hospital, Le Havre, 7th April 1917,
Dear Mrs Fitzsimmons, - I am very sorry to tell you that your son passed away last night, at 9:15. His end was quite peaceful. He had everything done for him that was possible, but a complication of pneumonia set in, and that, in addition to enteric fever, was more than anyone could possibly recover from. He was so brave and patient, and yesterday morning he was asking me if I had heard from you, and how you were, so I told him not to worry, that I had heard from you, and that you were glad he was well cared for, and hoping to see him. I am so sorry; he was such a nice man, and was always so grateful for what I did for him. I had intended writing before, but was always hoping he might be better, and that I would have good news to send. He seemed quite comforted yesterday afternoon. We miss him to-day. I hope you may be comforted in your hour of need. I am yours truly, G. L. Wood, Sister.
When a representative of the Herald called on Mrs Fitzsimmons at her home in Port Street, Hyde, on Monday afternoon he found the old lady much upset. She was wondering whether the letter could be a hoax; but unfortunately, it seemed to be only too genuine. The old lady has had a hard life in a domestic sense. She lost her husband when James was only three years of age, and he was her only support and her only child, and a good son he was, too. With the exception of James, who was thirty years of age, she has lived alone for about twenty seven years. Her husband was a soldier, in the Scotch Fusiliers, and was fifteen years in India.
James was a private in the King's Own Royal Lancaster Regiment. He enlisted nearly twelve years ago, when only about eighteen, and for some time was a regular, spending a period at Malta; and under normal circumstances he would have completed his full term of twelve years' service next August. When a boy he began work at the Newton Bank Printworks, and he was employed there some years. He was called up as a reservist shortly after the early severe fighting. He took part in the Soissons battle, and there was wounded, but apparently he had recovered from the wound, and since then had been on military police duty in the north of France. Private James Fitzsimmons was one of the best known footballers in Hyde District. He had played for Hyde, Hooley Hill (When in the Manchester League), Buxton, Bury, Hurst and Northwich Victoria, and wherever he played he was one of the most popular young men that donned a jersey. By all footballers and spectators [He is remembered].
North Cheshire Herald April 17th 1915, Page 8, Column 2 and 6
Newspaper Report 2:
Hyde Soldier Dies in Hospital
The mother of Private James Fitzsimmons, of the King's Own Royal Lancaster Regiment, who lives in Port Street, Hyde, has received a letter from a hospital at Le Havre, France, stating that her son has died there from enteric fever and pneumonia. Private Fitzsimmons was called up as a reservist early in the war, and had gone through some severe fighting, being wounded at Soissons. He was a native of Hyde, and was well known in football circles as a very capable forward, having assisted Hyde, Hooley Hill, Hurst, Northwich, Buxton, and Bury."
Manchester Evening News, Tuesday 13th April 1915, Page 7, Column 2