Roll of Honour of the 710 men of Hyde who fell in WW1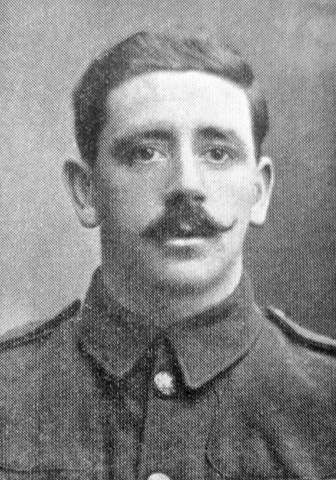 Thomas CALLAGHAN
Lance Corporal 12492 Thomas CALLAGHAN
1st Battalion, Kings Own (Royal Lancaster Regiment)
Killed in Action, Wednesday 16th June 1915, No.13 General Hospital, Boulogne, France, age 28
Home address:
28 Cross Street, Hyde, Cheshire
Born:
1887, Hyde, Cheshire
Parents:
Alice Butler Callaghan and George Callaghan
28 Cross Street, Hyde, Cheshire
Marital status:
Married to Annie Callaghan (née Smith)
Occupation:
Bobbin and Fabric Carrier, Cotton Mill
Enlisted:
Ashton-under-Lyne, Lancashire
Remembered:
Boulogne Eastern Cemetery, Pas de Calais, France,


plot VIII, row A, grave 82.

Link to Hyde:
Born in Hyde
In June 1904 Thomas Callaghan enlisted as a Special Reserve in the Manchester Regiment, aged 17 years old. He was discharged in June 1910 aged 23.
A letter received by his mother:
13 General Hospital,
Boulogne,
June 16th 1915.
To Mrs. Callaghan
Your husband, Lance Corpl. Callaghan, 1st K.O.L. Regt., was brought to the above hospital last night, wounded in the neck by a bullet. His condition was very serious, as the spine was injured. He had a comfortable night, and slept, but early this morning he got worse, and quietly passed away at 9:45am this morning. He did not send any messages, as I do not think he realised he was dying and he did not suffer pain. He will be buried here in Boulogne Cemetery, in a part set aside for our soldiers. With deepest sympathy in your sad loss,
I remain yours truly,
Sister Grandjeau.