Roll of Honour of the 710 men of Hyde who fell in WW1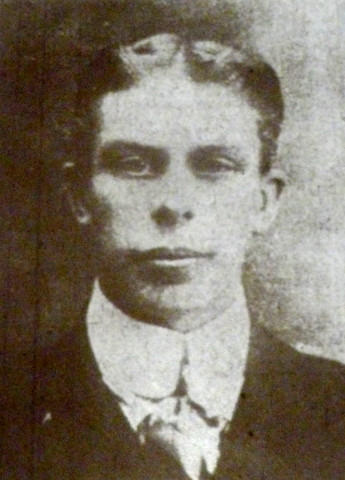 Horace BRUCKSHAW
Private PLY/229 (S) Horace BRUCKSHAW of 2nd R.M. Bn., R.N. Div., Royal Marine Light Infantry
Killed in action Saturday 28th April 1917, France & Flanders, age 26
| | |
| --- | --- |
| Home address: | King Edward Road, Gee Cross, Hyde |
| Born: | 28th June 1891, Whitchurch, Shropshire |
| Parents: | Susan Bruckshaw and Henry Bruckshaw of 83 Talbot Street, Whitchurch Urban, Whitchurch, Salop |
| Marital status: | Married to Phoebe Bruckshaw (née Holliday) of 28 Union Street, Hyde, Cheshire |
| Occupation: | Underlooker Carder, Ashton Brothers Cotton Mill |
| He enlisted in: | Manchester, Lancashire |
| Remembered: | Arras Memorial, Pas de Calais, France,   Bay 1 |
| Link to Hyde: | Lived in Hyde |
Early Life
Horace Bruckshaw was the second son, and the youngest of Harry and Susan Bruckshaw's seven children. The family had been wealthy enough to have owned Harrytown Hall in Bredbury, four miles south of Hyde, but they had sold and moved to Whitchurch, Shropshire, before his birth. He was educated at Whitchurch Grammar and started work as a Trainee Draughtsman,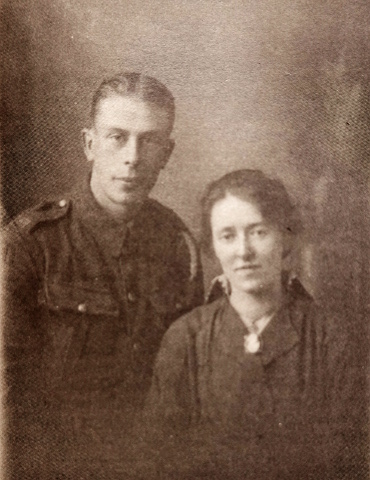 perhaps with the ultimate aim of qualifying as an Architect. However, after two or three years he left that job, moved to Hyde, where his sister Bertha was working as a teacher, and took a job as an Underlooker (Assistant Manager) in a cotton mill.
By 1914 he had become the Assistant Manager in charge of the Carding Department of a large cotton spinning mill. Most probably he had also formed a romantic attachment to Phoebe (Cissie) Holliday, his sister's friend who would eventually become his wife.
During his time in Whitchurch he and his friends had joined the local Territorial Army and enjoyed the training and annual camps. At the start of WW1, among the first wave of volunteers, he enlisted in the Royal Marines.
What makes Horace stand out is that during his military service he kept a diary (although apparently forbidden by Military Regulations). That diary survived the war. In 1979 it was published. Throughout his military service Horace remained an ordinary private soldier. The diary gives a rare viewpoint because is was written in the trenches by an ordinary soldier, whereas most remaining accounts of the fighting were written by officers, or after the event by historians. The published diary starts in January 1915 when Private Bruckshaw had completed his basic training as a Marine and joined the Plymouth Battalion of the Royal Marine Light Infantry who were in Tavistock, Devon, expecting to be sent abroad. The diary ends on the 12th November 1916, the eve of the Battle of Ancre and five months before his death. In December 1916 he had entrusted that diary to Cissie when he had enjoyed a brief period of home leave and they married. It is not known if he kept a diary in the later months, perhaps the fighting became too intense, or possibly his later diary was on his body when it sank into the mud.
Gallipoli
In early February 1915 the Marines departed from Devonport on the HMHS Braemar Castle for a nine day voyage to Malta. After four days in Valetta harbour, being allowed ashore for training and to explore the town, their next voyage was a slow and uncomfortable one towards Gallipoli. The weather was bad. Thirteen days were spent bouncing around at sea before it had calmed sufficiently to attempt a landing. On the 4th March the Marines landed on the west coast of Cape Helles, the tip of the Gallipoli Peninsula. They encountered very heavy Turkish resistence and within 24 hours were forced to return to their ship and to the Greek Island of Lemnos. They remained in harbour there for eighteen days, the Marines occasionally went ashore for manoeuvres.
Their ship then took them to Port Said in Egypt. Here, they dismbarked and set up camp in the desert. This proved hot, dusty, and very unconfortable so they were happy when, after two weeks, they re-embarked on the Breemar Castle and headed back to Lemnos. On the 24th April, after two weeks in harbour, they again sailed for Gallipoli. Early the following morning they landed for the second time on west coast of Cape Hellas. Again there was very heavy fighting. They managed to remain onshore for 36 hours before retiring to a ship.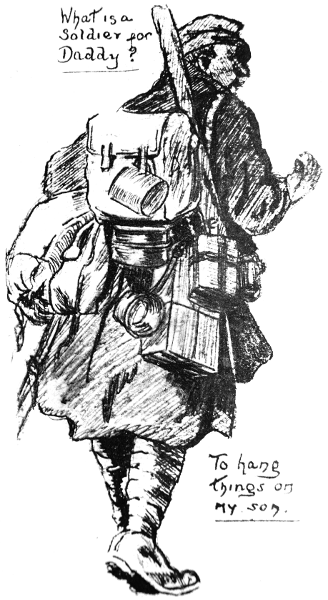 On the 29th April they were back at Cape Hellas. This time managing to gain a beachhead and a small amount of territory inland. This led to eight months of fierce trench warfare in which Horace was very much involved. They were subject to constant sniping and shelling. In the trenches they had to keep their heads down.
Although the allies held on to this territory, it came at a big and continuing cost, and gave no real advantage (allied ships were still unable to get through to the Black Sea) so by January 1916 it was decided to abandon the peninsula. On the 5th January 1916 it was the Marines' turn to withdraw. They sailed for Lemnos.
On 21 February 1916, after five weeks in camp on Lesbos, Private Bruckshaw's unit embarked on the Princess Alberta and sailed to Stavros in Northern Greece where they spent three and a half weeks digging defensive positions in the hills above the town. Back to camp on Lemnos where they had eighteen days with a some drill and plenty of swimming in the sea. Then they started on a slow journey, first on the HTS Britton to Marsailles, then by train to northern France, eventually arriving at Barlin, Pas-de-Calais.
France
On the 20th May 1916 they had their first taste of action in France. At dusk they moved to the front line, spent the night digging and repairing trenches, then returned to the rear for the day. For a time this became a regular pattern of work. Moving from place to place (Hersin Coupigny, Bully Grenay, Fresnicourt) plenty of work to be done, often on the front line. For most of this time the fighting was not as intense as it had been in Gallipoli.
By the 13th November the Marines were in Englebelmer and about to take part in the Battle of Ancre, a short but very fierce engagenment. They were in the thick of the fighting and took a very large number of casualties, so many that after four days battle their unit was relieved and sent to the rear for rest and to take on replacements for those who had been killed. The rest was scheduelled to last two months. This allowed indiviual troops to have two weeks leave, enough time to visit home, very welcome after 20 months abroad. Horace went home and married Cissie, but soon had to return to his unit in France.
In mid January 1917 the Marines returned to the Front Line and were soon fighting in the Battle of Arras. By late April 1916 they had been fighting in the Gavrelle area for some days and had already helped to capture Gavrelle village. The village was in an exposed position. The enemy still held most of the surrounding land including the ruined windmill which stood on high ground about 400 meters to the north-east of the village. Although the high ground was ony a few meters above the surrounding flat landscape, gunfire from there made life almost impossible for the occupiers of the village. To keep the village it was necessary to capture that high ground, but the enemy were equally determined to defend it, and had constructed an extensive system of barbed wire and trenches.
His Last Battle
On the 28th April 1917 at 04:25 hours the Marines set out to capture the high ground around Gavrelle windmill. They advanced in two prongs. The 1st Marines headed out of the village, north-eastwards, straight towards the windmill and its extensive defences. At the same time the 2nd Marines (Bruckshaw's unit) headed east along the road towards Fresnes-lès-Montauban. They would then have to turn left to approach the windmill from the south. The fighting was as severe as it could get. The day is marked in the history of the Royal Marines. That day the Marines lost more men than any day before or since. Eight hundred and fourtysix Marines were reported killed, missing, or wounded. Private Bruckshaw was one of them.
Of the 1st Marines, many died trying to take the enemy trenches. A few did made progress towards the Windmill and could be seen in the distance. But, with the enemy counter attacking on three sides, they could not be supported or reinforced and were soon killed. Very few of the 1st Brigade who set out that morning ever returned. Essentially the 1st Marines were wiped out.
The 2nd Marines fared a bit better, eventually capturing the windmill, but with very heavy casualties. Horace himself made it past the windmill. One of his comrades later told his widow that he had been killed by a hand grenade and his body buried about 50 yards east of the windmill.
Military Career It is interesting that Horace spent the whole of his military service as a Private soldier. His Grammar School education, and work as a manager, may have indicated officer material. The same qualities probably put him at a disadvantage in the ranks. He is likely to have been less physicaly fit than someone who did more manual work in civilian life. Promotion didn't appear to interest him, his diary never mentions it. Perhaps he was tired of being a junior manager, and did not want a repeat of the same pressures as a junior officer. He did however join a branch of the military that lead to extensive travel, and he had a keen interest in the places visited.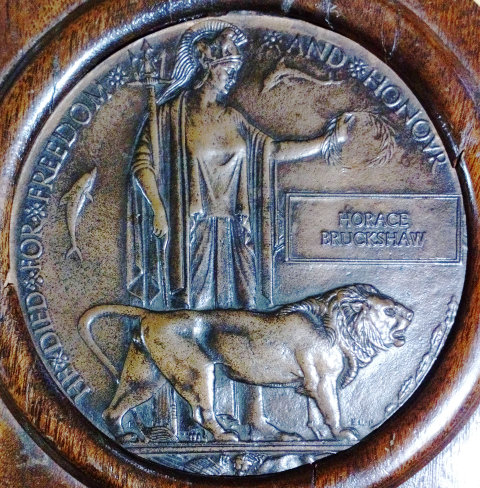 Another factor affecting his time in the forces may have been his health. The diary shows that he was on the Sick List for six months of his first two years of service abroad. He started with sea sickness on way to Malta (crossing the Bay of Biscay on a steamer without modern stabilisers would probably challenge anyone's constitution.) On the 17 February 1915 in Malta he had an eye infection which lasted three and a half weeks, so he was excused duty during the first invasion of Cape Helles (he did take part in the second and third invasions). On 3rd August, after fourteen weeks in the trenches, he was taken ill and evacuated for two weeks to a Hospital Camp on Lemnos. By the 27th October he was ill again, this time spending ten weeks in various hospital and convalescent camps on Lemnos. He returned to his unit shortly after they had evacuated Cape Helles. On the 29th July 1916, after five weeks fighting in France, he was in hospital for two weeks with a skin condition which affected his shoulder. His skin was unable to bear the weight of equipment a soldier was expected to carry. On the 24th September the problem returned, this time he was in hospital for seven weeks. He eventually rejoined his unit just in time to take part on the Battle of Ancre.
Despite health problems, and the heavy fighting in which he was involved, the diary reveals a person who kept his head down, got on with his work, did not complain, and retained a keen interest in his surroundings. He was just an ordinary soldier, but he was well enough educated to keep an interesting diary, illustrated, thanks to his training as a draughtsman, by some good sketches.
After The War
The Commonwealth War Graves Commission was tasked with recovering bodies from the battlefield and reinterring them in permanent war cemeteries. In the heat of battle, bodies had been buried where they fell, in trenches, in shell craters, or had disappeared into deep mud. It was difficult to find them. Horace's body was one of those not found, but he was not forgotten. In 1923 Phoebe and Bertha visited Gavrelle and went to the site of the windmill.
Sources:
- The Diaries of Pte Horace Bruckshaw Royal Marine Light Infantry 1915-1916 - edited and introduced by Martin Middlebrook, published in 1979 by Scolar Press.
- Assault on Gavrelle Village, April 1917 - from the War Diary of the 10th Royal Dublin Fusiliers (who fought alongside the Marines)
- Battle of Gravelle, April 1917 - from the The London Volunteer Blog