Roll of Honour of the 710 men of Hyde who fell in WW1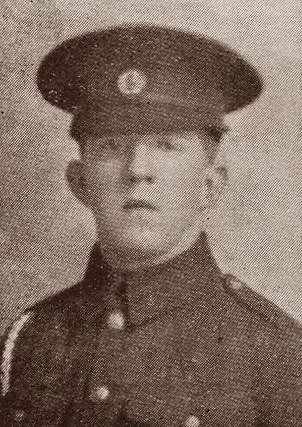 Fred BRADSHAW
Private 20723 Fred BRADSHAW
2nd Battalion, King's Own Yorkshire Light Infantry
Killed in action, Saturday 17th July 1915, Belgium, age 18
Home address:
8 Cross Cliffe, Apethorn, Gee Cross, Hyde, Cheshire
Born:
1897, Glossop, Derbyshire
Parents:
Jane Ann Bradshaw and Henry Bradshaw
8 Cross Cliffe, Apethorn, Gee Cross, Hyde, Cheshire
Marital status:
Single
Occupation:
Piecer
Enlisted:
Hyde, Cheshire
Remembered:
Voormezeele Enclosure No. 3, West-Vlaanderen, Belgium,


plot VII, row C, grave 6.

Link to Hyde:
Lived in Hyde
Brother to Private 19712 George Stanley Bradshaw.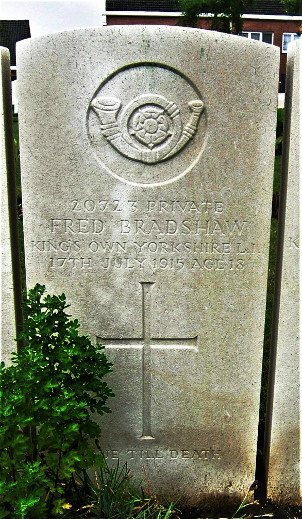 A Message of Remembrance, written for Werneth Low Cenotaph Unveiling, 25th June 1921:
In sorrowing remembrance of our two dear brothers,
who gave their lives for king and country,
Pte. Fred Bradshaw (King's Own Yorks, Light Infantry),
Signalman George Stanley Bradshaw (Manchester Regiment).
A token of love from Lizzie and Bill, Evelyn and Louis.