Roll of Honour of the 710 men of Hyde who fell in WW1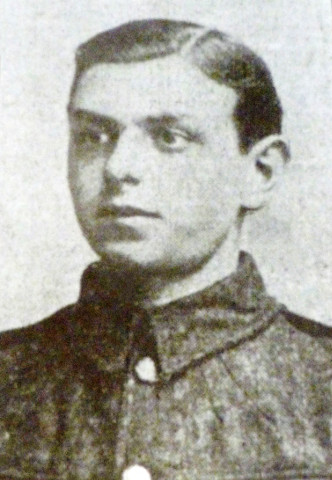 Edward BARKER
Private 17152 Edward BARKER
9th Battalion, Cheshire Regiment
Died of Wounds, Sunday 2nd January 1916, France, age 22
Home address:
4 Boston Street, Hyde, Cheshire
Born:
1894, Pendlebury, Lancashire
Parents:
Annie Barker and Edward Barker
136 George Street, Hyde, Cheshire
Marital status:
Single
Occupation:
Printer, Newton Bank Printworks
Enlisted:
Hyde, Cheshire
Remembered:
St. Vaast Post Military Cemetery, Pas de Calais, France,


plot II, row K, grave 7.

Link to Hyde:
Live in Hyde
From the Hyde Reporter, 22nd January 1916, page 3, column 4:
Letter to Mrs Barker written by Corporal P. Chadwick from Edward Barker's Company:
Dear Mrs Barker,
As a personal friend and as his late section-commander, I wish to break the news of Eddy's sad end. He and a party were engaged in carrying ammunition boxes from their redoubt to the headquarters, through a communication trench. Owing to a part of the trench having fallen in they were forced to go on top for a short distance. He and two companions who were leading the party had just clambered out with their boxes when a shell burst close to them instantly killing Eddy's companions and riddling Eddy with shrapnel. He was carried immediately to the first aid station, were everything was done for him but after several hours he succumbed. We all feel the death of your son very much as he was always ready to give a helping hand, and was also notable for his cleanliness.