Roll of Honour of the 710 men of Hyde who fell in WW1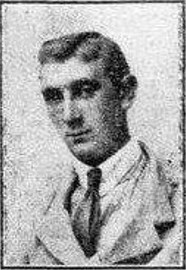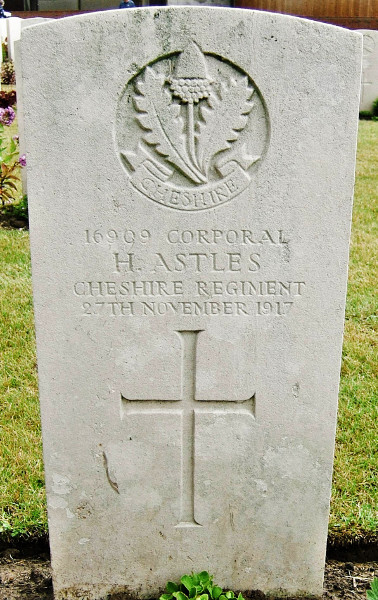 Harry ASTLES
Lance Corporal 16909 Harry ASTLES of 15th Bn. Cheshire Regiment
Killed in Action Tuesday 27th November 1917, Belgium, age 25
| | |
| --- | --- |
| Home address: | 53 Travis Street, Hyde, Cheshire |
| Born: | 1892 Over, Winsford, Cheshire |
| Parents: | Fanny Astles and John Astles of 53 Travis Street, Hyde, Cheshire |
| Marital status: | Married to Mary Astles (née Taylor) of 12 Mona Street, Hyde, Cheshire |
| Occupation: | Runner, Boiler Works |
| He enlisted in: | Hyde, Cheshire |
| Remembered: | St. Julien Dressing Station Cemetery, Langmark, Langemark-Poelkapelle, West-V., Belgium,   II. K. 35 |
| Link to Hyde: | Lived in Hyde |
Memorial in Over (St Chad) Churchyard, Cheshire.
Brother to Private 73611 Fred Astles.
A letter received by his mother a few days before the official notice:
Dear Mrs Astles,
I am writing you these lines in order to offer you my deepest sympathy in the bereavement you have sustained in the death in action of your husband, Lance Corporal Astles, of my company. You will doubtless have been notified by the War Office 'ere this, but I am writing to give you what details I may. Your husband was hit on the morning of the 27th November by a piece of shrapnel in the lung, and he became unconscious immediately, and remained so till he died. He suffered no pain at all, as he never showed signs of consciousness after being hit. It has been a great blow to the whole company, as with the men he was always a good comrade and very popular. I looked upon him as one of the most reliable non-commissioned officers I had, and had only just sent his name in for promotion. I am very glad to say we were able to carry him behind the lines, and he was buried by a Chaplin in a British cemetery. I cannot tell you the name of the place, but his grave is registered. If you write to the Director General of the Graves Registration, War office, London, he will be able to give you full details. His personal belongings are being forwarded to you, and I hope they arrive safely. If there is anything in which I can be of assistant to you I shall be only too pleased, if you will let me know.
Again offering you my deepest sympathy,
I remain, yours sincerely,
Claude B. Kidd,
Captain, 15th Cheshires.