Roll of Honour of the 710 men of Hyde who fell in WW1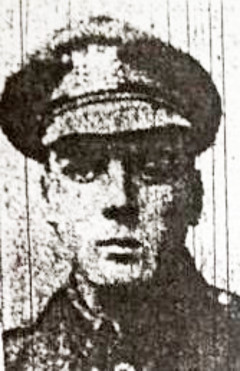 Robert ALLFORD
Private 351879 Robert ALLFORD of 9th Bn. Manchester Regiment
Killed in Action Friday 29th March 1918, France , age 28
| | |
| --- | --- |
| Of: | 13 Frank Street, Hyde, Cheshire |
| Born: | 1890, Hyde, Cheshire |
| Parents: | Susan Allford and James Allford of 13 Frank Street, Hyde, Cheshire |
| Marital status: | Single |
| Occupation: | Norththrop Weaver at Throsstle Bank Mill |
| He enlisted in: | Ashton -u-Lyne, Lancashire |
| Remembered on: | Assevillers New British Cemetery, Somme, France,   XI. D. 3. |
| Link with Hyde: | Born in Hyde |
Notes:

A Noble, Unassuming Lad

We regret to hear that Mr and Mrs James Allford of 13 Frank Street, Hyde, have lost their younger son, Private Robert Allford who was killed in France on the 29th March (Good Friday). Official news to that effect has been received. Recently Mr and Mrs Allford received a letter from a close soldier pal of their son, Pte. Horace Davison, son of Mr J. Davison, clogger, Clarendon-place. In this letter, dated May 26th, Pte. Davison refers with deep regret to the death of his

dear pal Bob

. When he heard of it he felt broken hearted.

He was as good as a brother to me,

the letter proceeds

and I cannot realise that he has gone. Nobody knows my feeling, and how sorry I am to lose such a dear friend, and I wish you to accept my deepest sympathy in your great loss. I know how you will miss him, and I hope the Lord will give you strength to bear up in your great loss. He fought and gave his life like a man.

The parents of the gallant departed soldier have also received a sympathetic letter from his old school teacher, Mr J. Bowden of Leigh-Street Council School, in which he says: He was such a noble, unassuming lad that one naturally became attached to him.

Private Allford attained his 20th birthday last January. He enlisted on the 11th June, 1915, three years ago, when only 17. He left England on the 30th April, 1916, and arrived in Egypt on May 11th. After about twelve months in Egypt he went to France about a year ago. He was at home on leave last October. In France he went through some heavy fighting. Up to enlisting he was employed as Northrop Weaver at Throstle Bank Mill. He was connected with St. Thomas's Sunday School.

From a newspaper cutting donated by a relative.